Legion M Fan Oasis Instant Hit at L.A. Comic Con
After much anticipation and a TON of planning, we were excited to finally open the inaugural Legion M Fan Oasis last weekend at L.A. Comic Con, and we are pleased to report that the experience was a resoundingsuccess! LACC attendees flooded the Fan Oasis—which was front and center in the Los Angeles Convention Center—and were immediately introduced to an immersive environment that showcased what Legion M does best: uniting fans!
There was literally never a dull moment in the Fan Oasis. From nearly twenty fan-centric panels scheduled over all three days and visitors bellying up to the Scum and Villainy Cantina Pop-Up Bar for film-themed cocktails, to the Global FX Costume Exhibition featuring items from First Man, "Stranger Things," Bram Stoker's Dracula and more, AND spaces showcasing Legion M projects like Mandy, Girl With No Name, and Bad Samaritan, the Fan Oasis was a buzzing hive of activity from beginning to end.
During our main panel Saturday afternoon, we were visited by Andrew Cosby (writer of the upcoming Hellboy movie and co-creator of SyFy's hit series "Eureka")! Later in the day, Paul moderated a very special panel on the LACC main stage: "Spotlight on Mandy" featuring SpectreVision's Elijah Wood, Lisa Whalen, Josh Waller and Daniel Noah! The SpectreVision team went in-depth on the production of the instant cult-classic film, and the full Cheddar Goblin commercial was shown, which the crowd LOVED! Paul spoke about Legion M's investment in Mandy and discussed how the Legion came together to build grassroots buzz for our project. Also on the main stage, David Baxter moderated a panel for The CW fantasy-adventure drama series "The Outpost." Produced by Dean Devlin's Electric Entertainment, "The Outpost" stars Jessica Green, Jake Stormoen and Anand Desai-Barochia discussed what's in store for season two and the power of fandom.
VIEW THE FULL GALLERY BELOW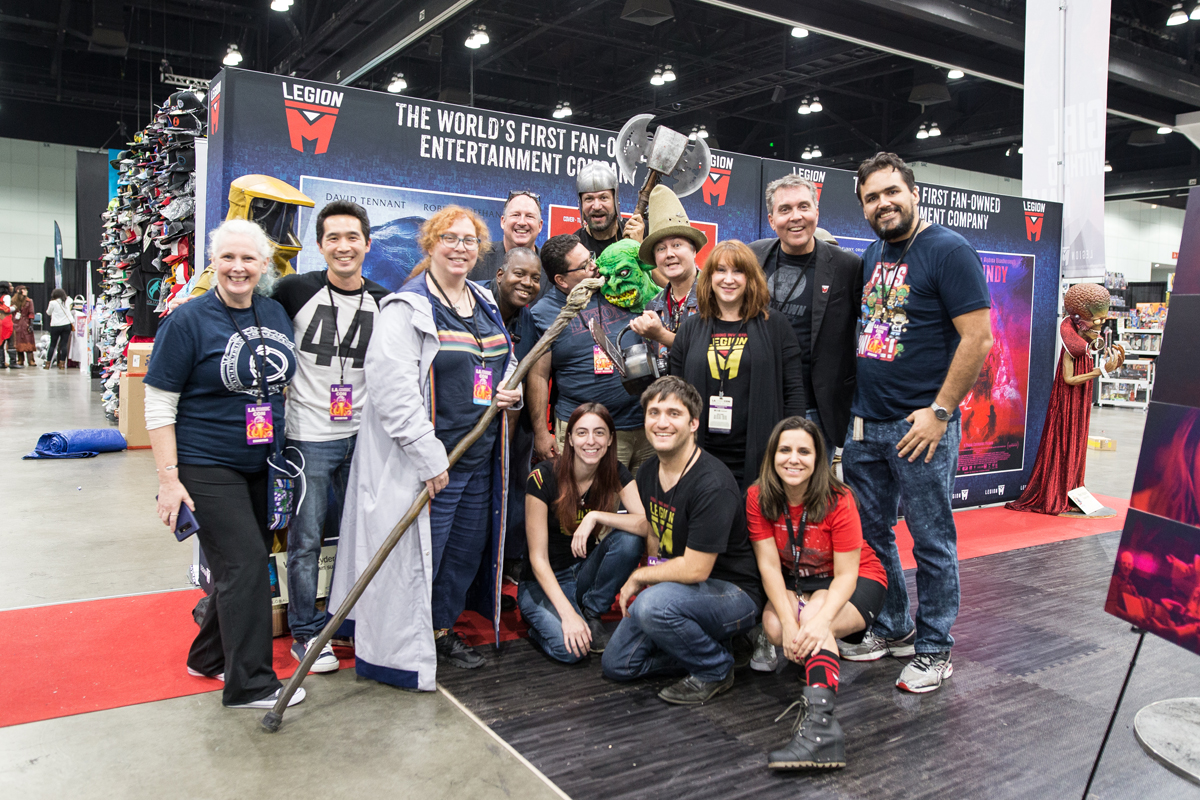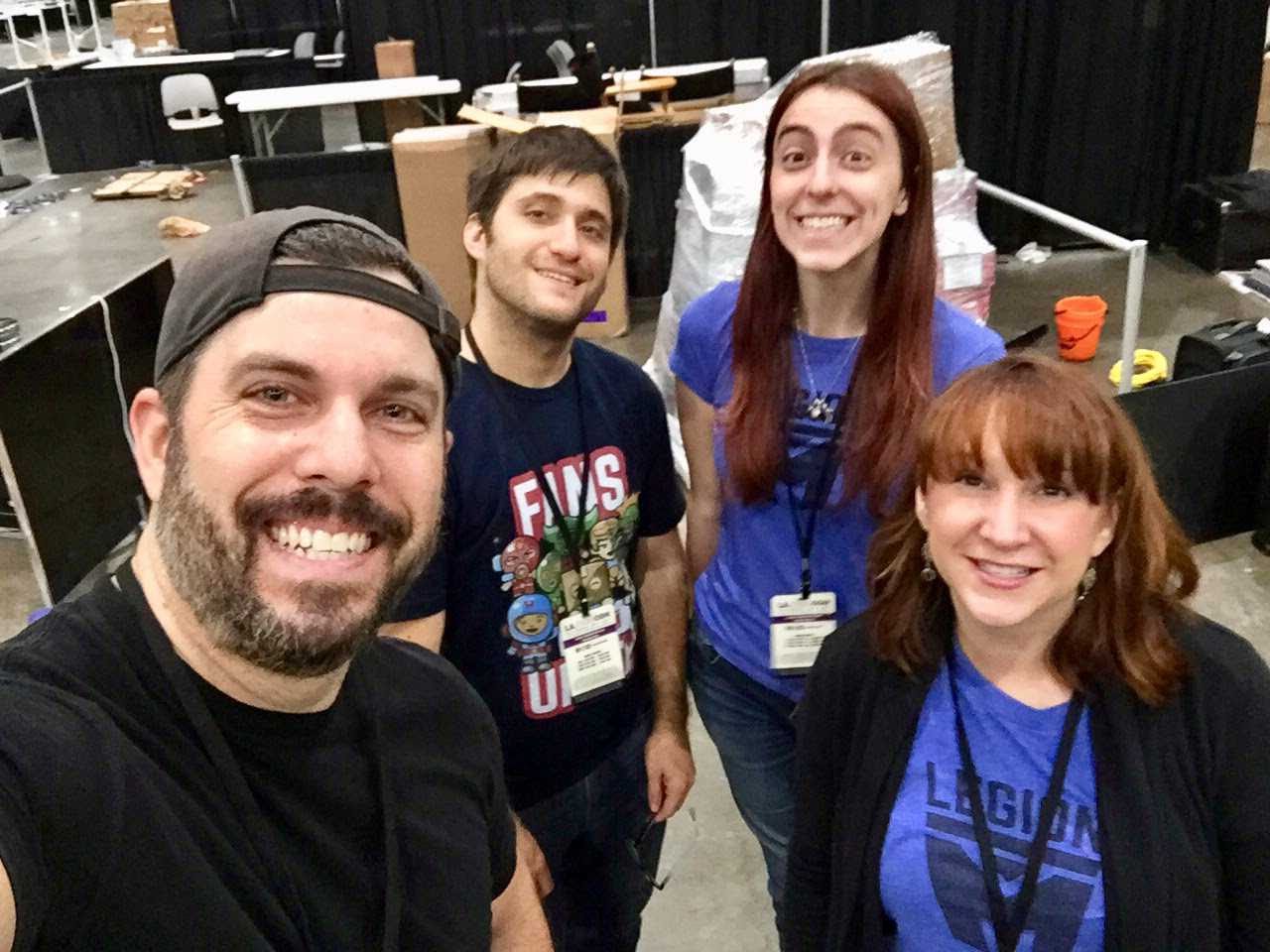 Other cool Fan Oasis moments included a very special fantasy neon-noir live-play experience of Dungeons & Dragons with D&D designer and Dungeon Master Ruty Rutenberg, along with Luke Gygax—son of D&D co-creator Gary Gygax—Kim Horcher, Kyle Vogt, and Legion M's very own David Baxter. On Sunday, Luke discussed the history and evolution of Dungeons & Dragons with the team that produced Dungeons and Dragons Art and Arcana: A Visual History. We were also honored to host a very special Dwarven Forge 3-Dimensional display by the company's CEO Stephan Pokorny. Stephen held court in the Legion M Fan Oasis and discussed what it takes to be a D&D Game Master and the amazing hand painted 3D terrain he sculpts that immerse players in the game.
We also loved welcoming our friends at SpectreVision and Ubisoft who showcased the companies' "Transference" VR experience, and fans of Stargate were able to take home a cool interactive photo courtesy of MGM Studios. The Fan Oasis doubled as a cool pop-up shop filled with Legion M and Mandy merchandise. Sales were brisk, and along with partner funding, helped offset much of the weekend's expenses, making the Fan Oasis nearly cost-free to the Legion!
We couldn't have been more excited to see the Legion come out in full force at LACC, whether to volunteer at the Fan Oasis or just to check it out and say hello. For those who weren't able to make L.A. Comic Con this year, no worries! The Legion M Fan Oasis will be a permanent LACC fixture in 2019 and 2020 … and hopefully beyond! The Con community is Legion M and we're so excited to continue on with L.A. Comic Con as an amazing partner. We will be sure to provide updates when LACC 2019 dates and tickets sales are announced, and we look forward to seeing YOU at the Legion M Fan Oasis at L.A. Comic Con next year!