Legion M takes Silicon Valley by storm!
The sun shone down as hordes of Legion M-ers descended on the small city of San Jose, CA. As one of the smaller cons in the circuit, Silicon Valley Comic Con offered an incredible showcase for the Legion to connect with a fresh, small, hyper-engaged audience — and boy did we deliver. Legion M teed up an exciting, fun-fueled, three-day extravaganza, complete with panels, photo-ops, merch, and enough interviews to keep your podcast queue booked for a week! It was a weekend fans, cosplayers, space-enthusiasts, and of course members and investors of the LEGION will surely not forget for days, maybe even weeks to come. And we knew with certainty — from the first toast with John Milius to the final roll of the game dice in Luke Gygax's "Tomb of Horrors" — that neither would we.
Friday kicked off to a relatively mellow morning (we get it, you've got obligations). The resplendent Marylin graced the center of the main entry hall, a ruby red crown jewel, drawing the eye and iPhone of all who passed. Banners and wall art boasted the numerous fan-favorite projects in the Legion's slate: Colossal, Mandy, Bad Samaritan, and Girl With No Name (to name a few). An 8ft tall Xenomorph broadcast our Sundance-acquired Memory: The Origins of Alien documentary to all who passed and offered fans a chance to take a selfie with face huggers and chest bursters. Nearby, Jay and Silent Bob loitered suspiciously in their own banner — another fan favorite photo opportunity. Legion M had the lobby deck stacked, and we ran that table for 3 days straight. It was awesome
Friday night offered the incredible opportunity for Legion M cofounders Jeff Annison and Paul Scanlan, as well as VP of Development David Baxter, our merch partner Justin Sewell, and Memory Director Alexandre O. Phillipe, to meet the legendary filmmaker John Milius over dinner. Milius, among other amazing works, wrote & directed Conan The Barbarian, Red Dawn, Big Wednesday, penned Apocalypse Now and Clear and Present Danger — we could go on and on. Discussing the biz with one of the greatest masters of cinema was one heck of a way to cap off the first day of Con — and at the time of this writing, this writer is still bummed to have shown up a day late.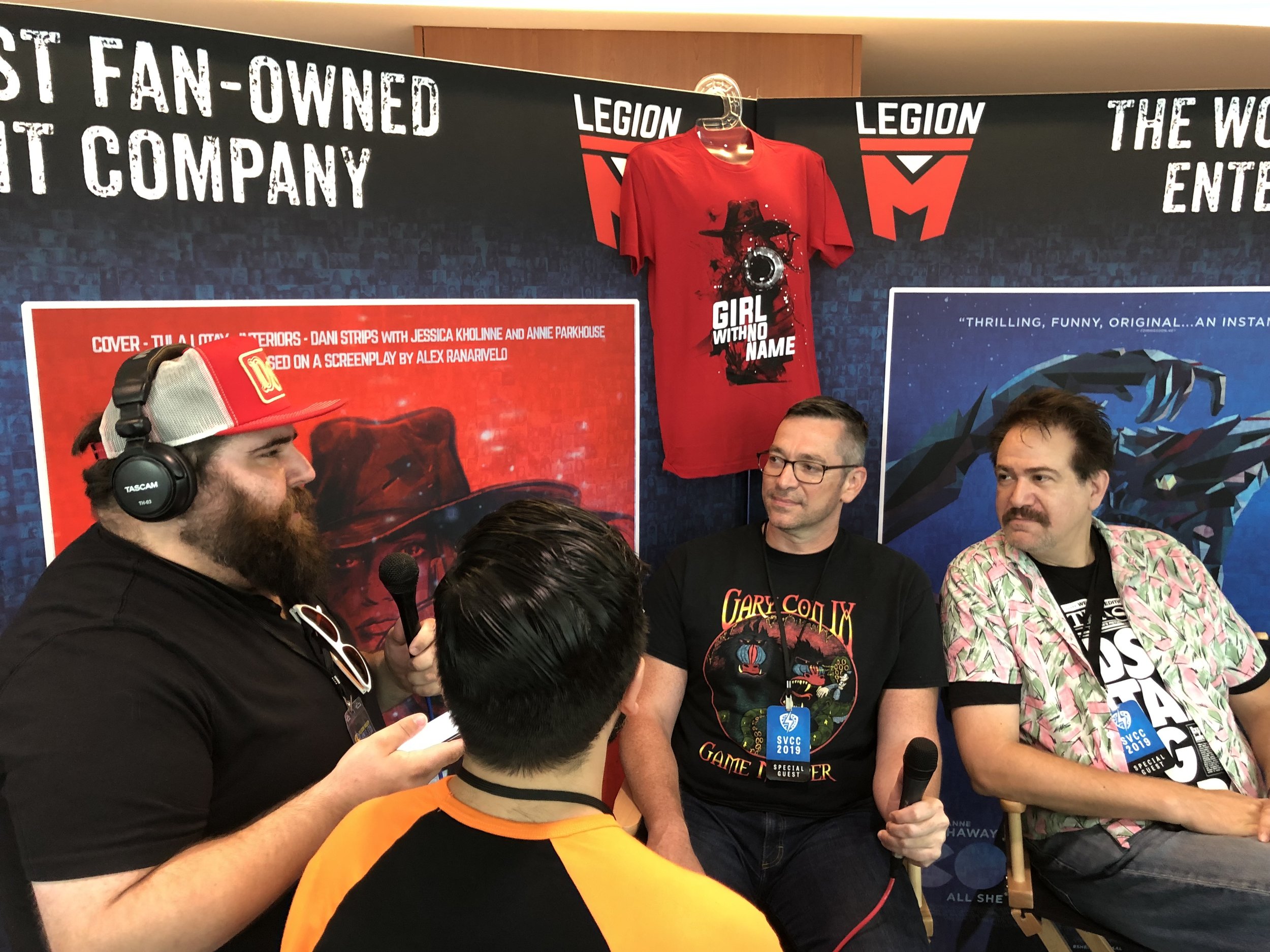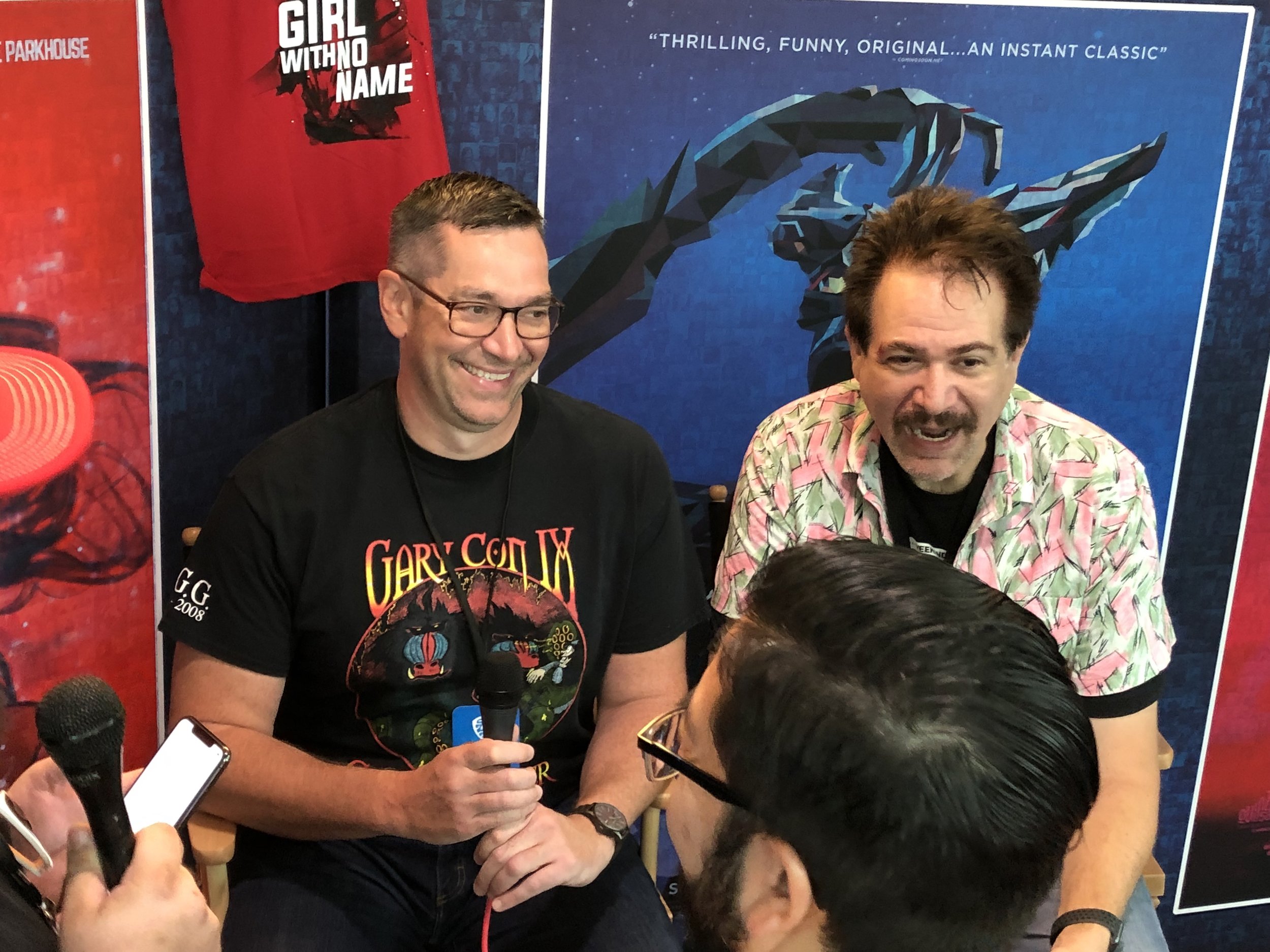 Saturday was the meat and potatoes for us at SVCC. Legion M had two major panels: "Fans Unite to Takeover Hollywood" and "Fans Celebrating 40 Years of Alien." Cofounders Paul and Jeff had numerous interviews with all sorts of amazing publications and podcasts — they even had an unexpected guest drop in...
The "Fans Unite To Takeover Hollywood Panel" gave us the ability to showcase all the amazing projects Legion M is involved with to a brand new audience. From room 233 ABCD, Paul, Jeff, Alexandre, and David talked about the potential for our growing company and even showed a brand new, unreleased Memory trailer!
Later that day, Alexandre O. Phillipe took the reins to lead an informative and exciting panel on the inspiration for Memory, and talk 40 years of Alien with Tim Boxell, the underground comic artist whose work inspired the infamous "chest-burster" scene in Dan O'Bannon's classic tale. Boxel discussed comic culture of the day, and how he was influenced to create his work. We showcased the brand new trailer again for even more Alien and Legion M fans,, and even played a few other unreleased clips from the feature film. The place was electric — even if the lights weren't at times, with Alexandre having to do part of the panel in the dark after the house fluorescents refused to come back on! When they finally did, there was an audible groan from the room because the dim ambiance was the perfect environment to discuss a film many aptly describe as a "haunted house in space." Even our friend the Xenomorph decided to stop by for another photobomb!
Saturday night, the Legion M team was treated to a meet-and-greet with the Great and Powerful Woz himself at the Forager Tasting Room, not far from the convention center. A few of us lined up to get that pic!
Day 3 for Legion M can be summed up in one word: Gygax. It was our honor to host Luke Gygax, founder of Gary Con, and son of Dungeons and Dragons creator Gary Gygax, for not one, but TWO great panels. Luke and David Baxter kicked off the morning with an enlightening look at the game we know and love in an interview with the "Nerds With Friends Podcast." Luke and David immediately followed up with the first panel of the day, "Growing Up Gygax," which was a look back at Luke's life and memories of his father's legacy. It was incredible to hear so much personal insight into the creation of Dungeons and Dragons, and Luke was kind enough to take questions from the audience afterward. It was a terrific panel and one that would be hard to top — but of course Luke topped it about an hour later!
"DND with a Haste Spell: Tomb of Horrors In 90 Minutes" was the perfect finale to Legion M's time at SVCC. Luke DM'd this classic dungeon for a panel packed with DND pros — including our own David Baxter, and friends of the Legion Tom Brown and Matan Goldstein. The object of this quest was simple: play fast, play smart, and if you die immediately, well, that's kind of the point. For a PACKED HOUSE our intrepid heroes battled monsters, ethereal evil, and of course, "pits with pointy spikes at the bottom," attempting to complete their mission. Remarkably, every last one of them survived until the end of the 90 minute panel! Nobody wanted the game to end, and I swear that whole room (including this writer) would have sat there watching these seasoned vets entertain us for hours more — but time was up, and thus far only 10% of the trap-riddled doom lair that was the "Tomb of Horrors" had been traversed. We called it a day.
SVCC was a productive, fun experience for our team and our amazing supporters. We're thrilled to have been able to welcome many new investors and members to the Legion! Legion M would like to thank everyone on the SVCC team who made the weekend so incredibly special, fruitful, and just plain awesome! We'd also like to thank all the members of the press who came out to interview our head honchos and spread our good name in their publications. Thank you to John Milius for hosting us for dinner — WE ARE NOT WORTHY! Thanks to Alexandre O. Phillipe for joining us for the Saturday panels, signing posters, and just being an all around cool (and incredibly talented) guy. Thank you to Luke Gygax for hanging out with us and sharing all those stories — and for not letting our friends die in the Tomb of Horrors. Watch out for that Flame Strike! And finally, thank you to all of the volunteers (Bob DeCarli, Ramona Snyder, Boots Miller, Carolina Romero, MeriJewel Burr, Greg Greeson), investors, members, fans, and friends who stopped by the Legion M booth to say hi, snap a pick, and be a part of our growing family.
...Oh and we forgot to mention, we were able to reunite the Conan creator and Conan himself for a moment that was anything but barbaric. More news on this to come… Legion OUT!